In this release, we're excited to introduce several new features to help you better organize your deals and offers in Jointly. Plus, a new and simplified client signing experience along with a few more platform improvements! Keep reading to learn more about what's new.
‍
Deal filtering
When you're managing a lot of deals in your pipeline, keeping things organized can be a challenge. To make it easier to find the deal you're looking for, we've introduced the ability to filter the deals in your pipeline. You can filter deals by deal type (buyer, seller, etc.), team members, and closing date to quickly find the deals you're looking for. Plus, if there's a filter you like to use often, you can save it for easy access in the future.
To filter the deals on your pipeline, navigate to your Deals page and click "Filter" in the top right. From there, you can choose your filter criteria. To save a filter, select your criteria and click "Save View." Next, add a name for your filter and press "Save." You can access your saved filters under the "Saved Views" section when you click "Filter." To clear a filter, you can remove individual criteria or clear all criteria in the top left of your pipeline view.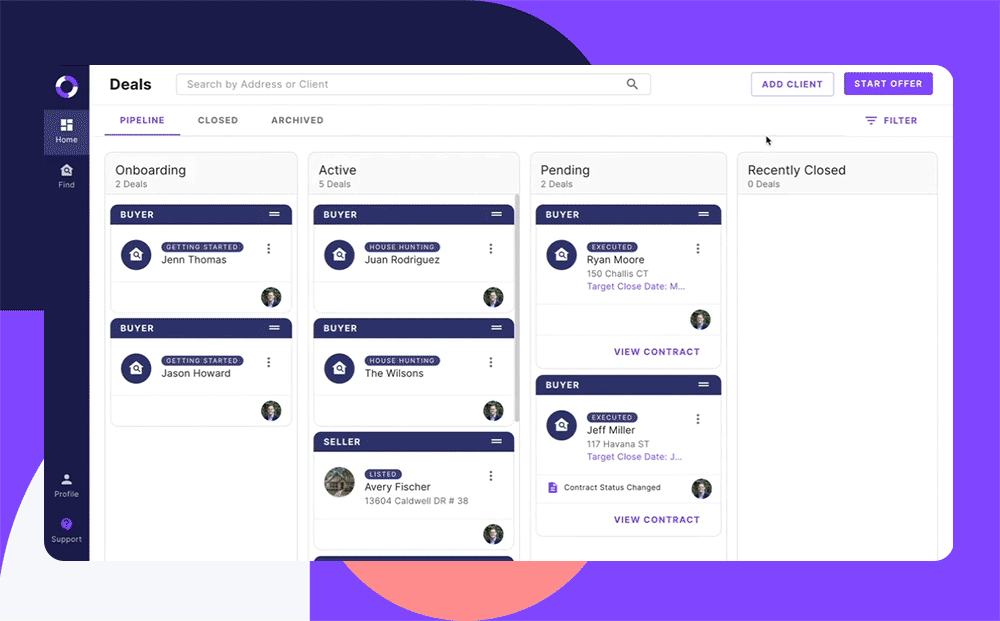 ‍
Closed tab
To keep your deal pipeline better organized, we've also introduced a new "Closed" tab so you can see all of your closed deals in one place. When viewing your pipeline, you'll now only see recently closed deals. By default, recently closed deals are any deals that have a close date within the last 7 days. All other closed deals will appear in your Closed tab. You can adjust the default time frame of your recently closed column in your profile preferences.
To view your closed deals on your Deals Page, simply click the "Closed" tab at the top of the page. You'll be able to see the deal name, client type, closed date, and team members at a glance. You also have the option to sort by closed date. To view a deal in more detail, click on the deal. To change the default time frame for the recently closed column, go to Profile, Manage Profile, and Deal Page Preferences. Enter the number of days you'd prefer a closed deal should remain in the recently closed column before being moved to the Closed tab.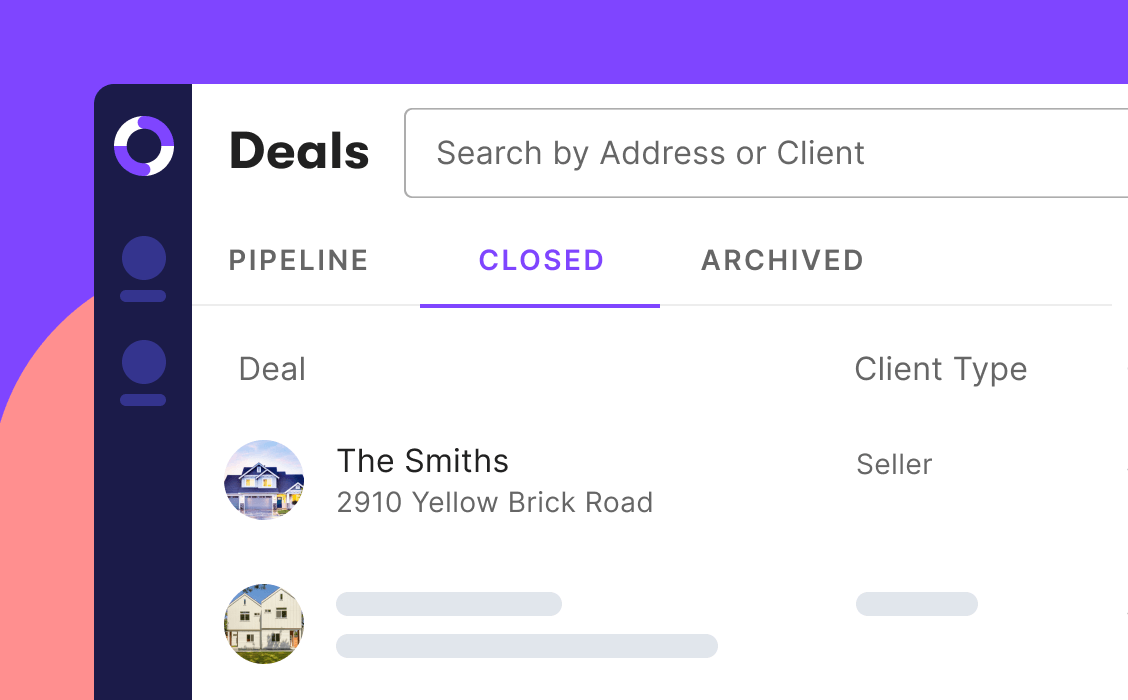 ‍
Archive offers
When you're drafting multiple offers on behalf of a client, things can get a bit chaotic. In an effort to help you stay on top of all the offers and keep things organized, we've added the ability to archive offers. With the archive offers action, you can hide offers that are no longer relevant while also ensuring you retain a record of those offers. After you archive an offer, you can always access the offer under a new "Archived" section on your Offers tab.
To archive an offer, navigate to your Offers tab, find the offer you'd like to archive, and click the three dots to the right of the property address. Then, select "Archive Offer." You'll be prompted to confirm this action. Once you confirm and click "Archive," the offer will be stored under an "Archive" section at the bottom of your Offers tab. From there, you can access the deal and its details, as well as unarchive the offer.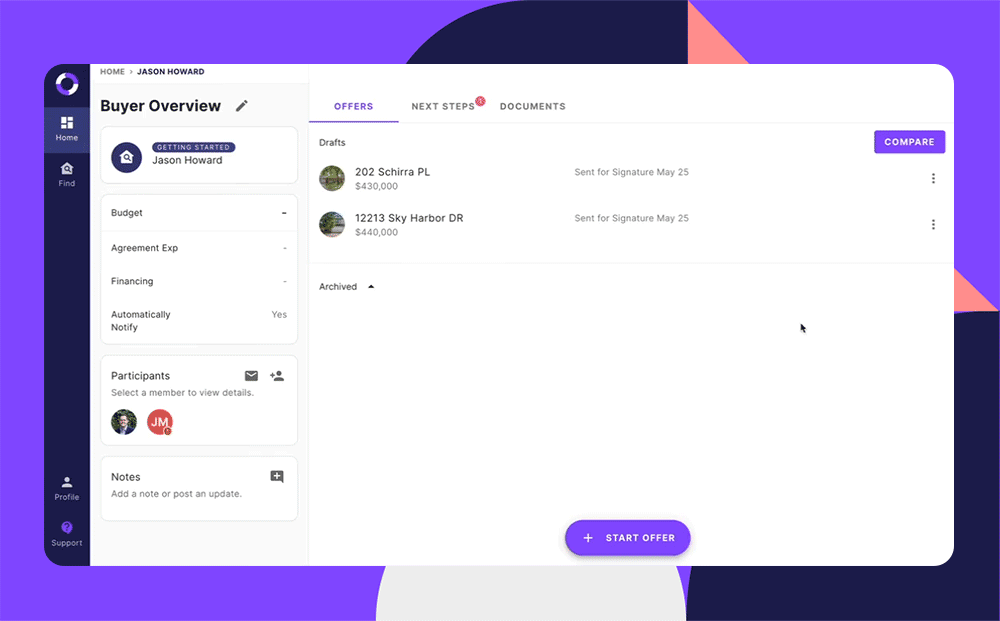 ‍
A new and simplified client signing experience
In addition to providing agents and their teams with a great transaction experience, we also want to ensure your clients enjoy their Jointly experience too. That's why we've simplified the client signing flow to ensure a smooth and seamless signing experience. Instead of being assigned individual tasks to review or sign documents, we've introduced a single "review and sign" task for clients. Now, when your clients log into Jointly, they'll only see one "review and sign" task for all document-related tasks they've been assigned.
Curious what this looks like for your clients? Check it out below: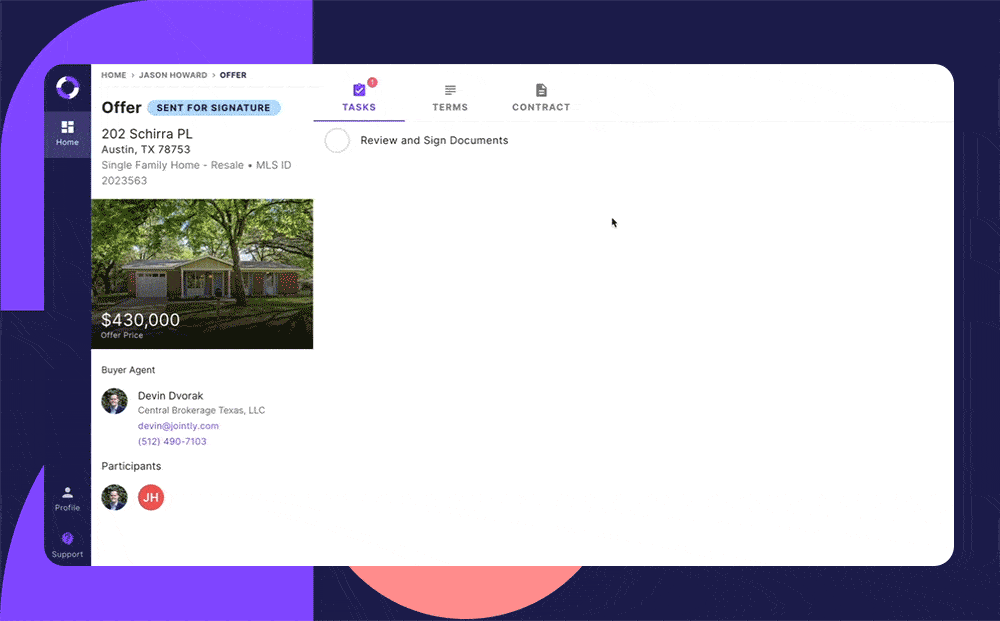 ‍
What else is new
Not only have we made it easier to keep things organized within Jointly, we've also made improvements to our document editing experience and added a new capability for transaction coordinators.
Edit improvements: Now, you can edit documents that have been marked completed or assigned to your client. You can also start editing documents from within the Documents or Contract tab. Just click the pencil icon to start editing.
Transaction coordinator update: If you work with a transaction coordinator, your coordinator now has the ability to edit your listing's Offer Portal on your behalf.
If you have an idea for how we can make Jointly even better, we'd love to hear from you. Let us know what new features you'd like to see.