In our latest release, we've improved the e-signature experience for clients, made it easier to download your offer documents, and introduced the ability to handle leases for your clients. Read more about our newest features and how you can use them for your transactions
‍

Simplify the client e-signature experience
To streamline the client e-signing experience, we've introduced tokenized links so clients can easily review and sign their documents without creating an account or logging into Jointly. These links allow clients to access and sign their documents with one click—no account or password required.
Tokenized links are automatically enabled so there's nothing for you to do on your end. Now, when your client receives an email or text with a link to Jointly, they'll be able to click the link and immediately access Jointly without having to create an account or log in.
‍

Manage and download offer documents with ease
In this release, we've improved our document downloading experience. Now, you can select and organize the documents you want to download and choose whether or not to include an e-signature certificate with your documents.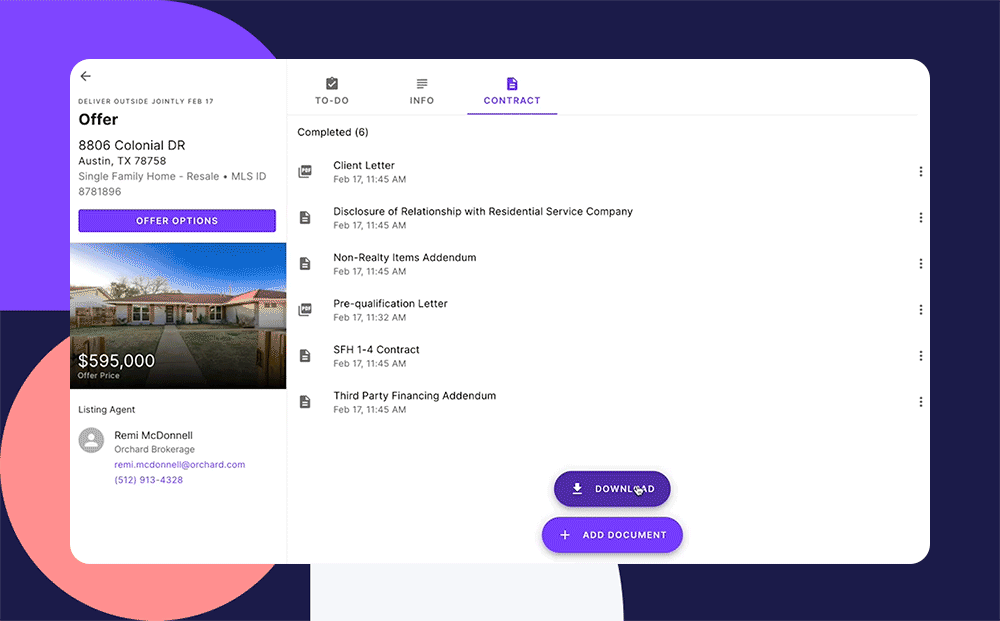 When you click the "Download" button, a window will appear where you can select the documents you'd like to download. Once you've selected the documents, click "Next." You'll have the option to name the file, choose whether or not to include an e-signature certificate, and select how you'd like to download the file—either a combined PDF or a ZIP file of individual PDFs.
After you click "Next," you'll have the opportunity to reorder your documents before downloading. Just use the hamburger icon to drag and drop the files in your preferred order.

Flexibility to handle leases for your clients
Does your client want to rent the house you helped them buy? Now, you can help them draft residential leases using Jointly. Helping your client find a place to rent? You can use Jointly to help them complete lease applications too.
Whether you're representing a landlord or tenant, you can click "Add Client" from your Deals page to get started. From there, select "Tenant/Landlord" and enter a name for your lease transaction. Next, choose who you're representing, the tenant or the landlord. Enter in the name of the tenant or landlord. If there is more than one, you can add an additional tenant or landlord and enter in their information, and press "Save."
To start drafting a lease or a lease application, click "Add Document." Then, choose "Select from forms library" and select the appropriate form. From there, you can use Jointly to complete the form and send it to your client for signature.
‍

If you have an idea for how we can make Jointly even better, we'd love to hear from you. Let us know what new features you'd like to see.