There's a reason Jointly earned a 5-star review from Inman's Craig Rowe...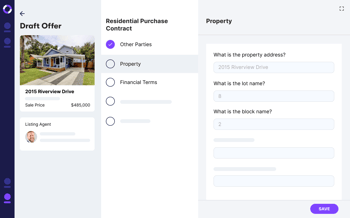 Jointly has rethought — and rebuilt from scratch — the process of integrating the data from MLS, offer, and transaction (and other necessary agreements and disclosures) with electronic forms, eSignature, transaction management, and the user experience.
In short, Jointly puts data-driven intelligence and business rules behind the forms and the process, which in turn makes the process much faster (think writing offers in minutes), and much more compliant.
Does something in the contract mean we need to add a form? — Jointly knows and pulls it in for you. Did something change during the process, and now there's a value mismatch among multiple forms? — Jointly flags it automatically. Did you accidentally put a closing date in the past? — Jointly won't let you.
Jointly's Foundation Is Data
Before Jointly, real estate offer and transaction platforms were built around the document. Where do we store the document? How do we send and sign the document? Jointly turns this on its head. Jointly is built around the data. The document is simply a place the data will be used.
Jointly is not just a slightly better way to handle forms. It is a fundamentally new approach. While other existing software does autofill some fields, pass some data back and forth to transaction management functions, etc., nothing comes close to the intelligence and user experience built in to Jointly.
Superior Experience for Agents, Clients, and TCs
With Jointly, the user works in an intuitive and comfortable user interface, answering questions (offer amount, escrow amount, closing date, etc.) and Jointly writes the actual forms. When the user is the listing agent, the reverse is true — Jointly pulls all the relevant data out of the offer and presents it in an easy-to-understand interface. And, when there are multiple offers, Jointly provides an elegant side by side comparison for review.
While Jointly is a game changer for real estate agents, TCs, teams, and brokerages, it also transforms the process for the client. The client portal gives the client a place to see where the process is, what tasks they have to accomplish, and more.
Even independent transaction coordinator businesses can use Jointly to manage their many clients. Jointly is about collaboration, and it can be utilized by everyone—agents, teams, brokerages, and independent TCs.
When a deal is signed, Jointly pulls all the key data into a timeline view to manage the transaction to an on-time close.

Leases and Screenings, Too
And, Jointly also applies the same approach to property management, allowing real estate professionals to handle all their business (purchase/sale and rentals) in the same platform, with the same intelligence and ease of use. Jointly even handles tenant screenings through TransUnion and collects fees.
Innovation with Purpose
Jointly is innovation at its best. It is purposeful. It is a fundamental rethink and rebuild of how the real estate industry handles the process and the data of real estate.
Jointly dramatically improves the working experience and process of real estate transactions, delivering real benefits in terms of speed, efficiency, compliance, and experience for both the real estate professional and the client.
Learn More About Jointly, Get Started for Free
If you'd like to learn more about Jointly, you can schedule a demo here. But you can also just get started because Jointly's Starter Plan is free. You can sign up and start writing offers today.